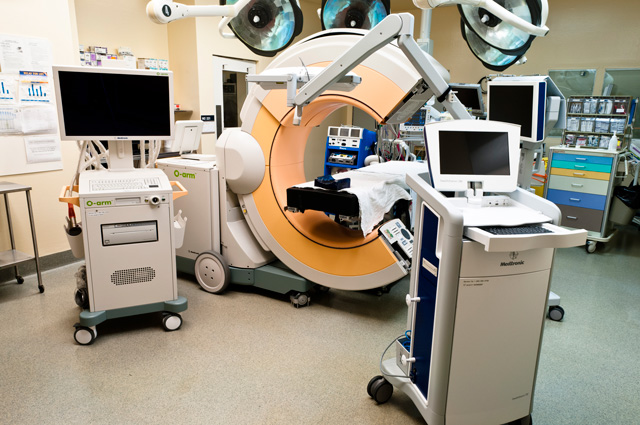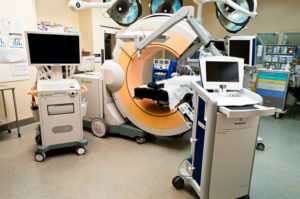 The United States Food and Drug Administration (FDA) has issued several warnings recently about the risks associated with surgical stereotaxic navigation systems. These computer systems are employed to guide surgeons during operative procedures and intended to ensure accuracy of placement for surgical instruments and implants. However, the FDA has cautioned doctors about several issues with these devices, which may lead to patient injuries during surgery or even death.
The most recent report, Navigational Accuracy Errors Associated with Frameless Stereotaxic Navigation Systems: FDA Safety Communication, was released on June 15th regarding frameless stereotaxic navigation systems, which use patient imaging, such as MRI's and CT scans, to create a virtual map for surgeons as they navigate through the body during operative procedures. In theory, creating a two or three-dimensional GPS for a specific patient's body, and navigating using specialized tools that allow for real-time visualization, should ensure increased accuracy and decrease risk. Unfortunately, evidence shows this may not be the case.
If you would like to discuss your right to pursue compensation for injuries caused by mistakes during surgery, including errors with surgical navigation systems, simply call 973-435-4551 for a free consultation with an experienced medical malpractice lawyer at Fronzuto Law Group in New Jersey.
What is a Stereotaxic Navigation System?
Stereotaxic navigation systems are frequently used by neurological surgeons, orthopedic surgeons, Oral/Maxillofacial Surgeons, as well as Ear, Nose and Throat Doctors. In fact, they are often employed during brain and spinal surgeries, where errors can truly spell the difference between life and death. Other common procedures using these computer systems include tumor resections, bone preparation and implant placement, placement of electrodes, and diagnostic biopsies. There are two distinct types of stereotaxic navigation systems: frame-based and frameless. Frame-based systems are actually affixed to the patient's head using pins or screws. They use the frame's attached position as a reference point for navigation. On the other hand, frameless systems typically do not need an attachment point, using technology and the patient's anatomy to accomplish the virtual navigation that the framed-based system provides. Frameless systems, the more prevalent of the two, have also been associated with serious medical injuries.
FDA Warning about Frameless Surgical Navigation Systems
With regard to frameless stereotaxic navigation systems, the FDA stated:
"The FDA is aware that some health care providers have experienced navigational accuracy errors during surgical procedures when using frameless stereotaxic navigation systems. Some of these errors have led to patient deaths, serious or life-threatening injuries, and inaccurate, aborted, or prolonged medical procedures."
After conducting an analysis of current data, the FDA identified a number of factors that may contribute to navigational errors and resulting patient harm when using stereotaxic navigation systems. The potential causes of accuracy errors include:
Software or hardware issues, defects, or damage
Human errors involving input, system setup or execution, or surgical techniques
Using surgical tools that are incompatible with the system
Movement within the body, affecting the position of the brain, spine, or tissue
Improper registration of the reference point
Inadequate image resolution or image incompleteness
How Doctors Can Prevent Medical Errors when Using Stereotaxic Navigation Systems
The FDA provided numerous recommendations for surgeons and medical professionals when using Stereotaxic Navigation Systems. They warn that doctors must continuously assess navigational accuracy during procedures, compare anatomical landmarks to the location provided by the computer system, and stop using the navigation system if any navigational inaccuracies present. Hospitals and other medical professionals must also ensure that all software in Stereotaxic Navigation Systems is updated and maintained, all associated training is completed, and the manufacturer's instructions are followed at all times. Other recommendations include ensuring that patient imaging is accurate and of adequate quality to provide appropriate virtual imaging.
When You Have Been Injured by Surgical Navigation System Errors in New Jersey
With technology such as this, the opportunity for medical errors and associated injuries abounds because both human error and device-related errors can cause issues. When undergoing surgery, it is important for patients to understand the specific details of the procedure and how the surgeon plans to accomplish the objective. If things do go wrong during surgery using a Stereotaxic Navigation System, it is important to know that you have rights. Medical errors and injuries resulting from surgery, whether it involves the back, the brain, the neck, the spine, or another part of the body, may provide grounds for a medical malpractice claim. If you or someone you love has suffered harm due to medical negligence in New Jersey, contact Fronzuto Law Group to discuss your case with an experienced New Jersey medical malpractice attorney. We can be reached online or via phone at 973-435-4551 and consultations are always provided free of charge.