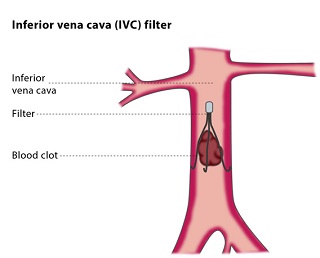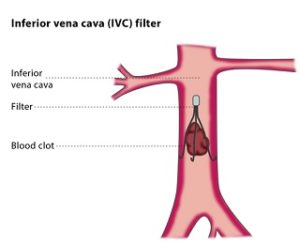 IVC filters, or inferior vena cava filters, have been the subject of debate within the medical community for years, as physicians and regulators continue to discuss the efficacy of these medical devices, as well as the risks they pose to patients. According to recently published research that investigates the efficacy of IVC filters in improving survival rates, these devices may pose more of a risk than a benefit.
What is an IVC Filter?
An IVC filter is a small, cage-like medical device implant that is inserted into the inferior vena cava. The inferior vena cava is the body's largest blood vessel and is essential for the delivery of blood from the heart to the extremities. An IVC filter is intended to serve as a preventative measure, specifically, to prevent blood clots from causing pulmonary embolisms (PE's). A pulmonary embolism is a blockage of one of the arteries in the lungs. Pulmonary embolisms can be caused by blood clots that migrate to the lungs from the legs or other parts of the body, also known as deep vein thrombosis (DVT).
How Do IVC Filters Work?
The function of an IVC filter is to trap and filter blood clots out of the blood on their way to the heart, thus preventing blood clots from reaching the lungs and causing pulmonary embolism. IVC filters are generally used in cases in which anti-coagulant or blood-thinning medications are ineffective or inappropriate treatment options. These filters are being used with increasing frequency to treat trauma patients, who are at increased risk for bleeding, blood clots, and pulmonary embolisms.
Complications Caused by IVC Filters
Unfortunately, IVC filters can also cause serious and even life-threatening complications. In fact, the FDA issued recommendations that doctors remove IVC filters as soon as the patient is no longer at risk for pulmonary embolism. This is due to the many adverse events that have occurred in patients with IVC filter implants. Common complications of IVC filters include:
Erosion or perforation of the inferior vena cava;
Filter fracture, which can lead to organ damage;
Filter migration, which occurs when the filter travels to another area of the body; and
Filter embolization, which occurs when the filter fractures and fragments become embedded in the organs.
Research Results on IVC Efficacy
Recent research, entitled "Association Between Inferior Vena Cava Filter Insertion in Trauma Patients and In-Hospital and Overall Mortality," investigated the efficacy of IVC filters in preventing mortality among patients who received these medical device implants. The results, published in the Journal of the American Medical Association (JAMA), revealed no significant difference in survival rates among trauma patients who received IVC filter implants versus those who did not. In fact, among 451 trauma patients with an IVC filter and 1343 controls without an IVC filter, there was no significant difference in mortality or cause of mortality, regardless of whether or not vein thrombosis was present. Researchers concluded: "The use of IVC filters in this population should be reexamined because filter removal rates are low and there is increased risk of morbidity in patients with filters that remain in place."
Defective IVC Filters and Product Liability
Thousands of patients have filed product liability lawsuits against the leading manufacturers of IVC filters: Cook Medical and C.R. Bard. These injured victims claim that the medical device manufacturers failed to warn doctors and patients of the filters' potential complications, the risk of filter fracture and migration, and the necessity for removing these filters as soon as the risk for pulmonary embolism subsides. Considering this new research, the use of IVC filters should be thoroughly considered by doctors and removal of these filters should be performed per the recommendations of the FDA, as failure to do so may result in catastrophic consequences.
Questions about an IVC Filter Lawsuit in NJ?
If you are wondering about filing a lawsuit for IVC filter complications in New Jersey, the team of New Jersey product liability attorneys at Fronzuto Law Group are dedicated to assisting you. We have many years of experience handling dangerous and defective product lawsuits on behalf of clients in NJ and a thorough understanding of the laws applicable to those who have been injured as a result of failure to warn about risks of certain products and medical devices. To discuss your potential IVC filter claim with a lawyer who can provide answers to your pressing questions, contact us at 973.435.4551 or fill out our convenient online form today. We provide free consultations.