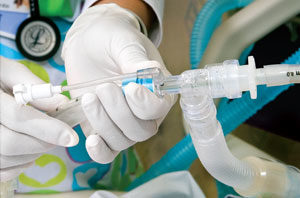 In a recent case involving a young girl who suffered permanent brain injury after doctors prematurely removed her from a ventilator following lung surgery, a Monmouth County jury awarded her and her parents $17 million.
The victim in this case was Kelsey Heaney, who was only 7-years-old when she was hospitalized for acute pneumonia in 2008. Kelsey and her parents sought treatment for her condition at Jersey Shore University Medical Center in Neptune, NJ. Her treating physician, Dr. Charles K. Dadzie of Meridian Pediatric Associates, determined that Kelsey needed lung surgery for a severe case of pneumonia, which doctors failed to adequately treat.
After undergoing lung surgery, Kelsey was intubated (placed on a ventilator) for 10 days. The ventilator was essential for Kelsey's breathing, as this machine moves air into and out of the lungs. Ventilators are often used to provide breathing assistance to patients who cannot breath on their own or breath insufficiently. This case hinged on the use of the ventilator and the appropriate time to remove Kelsey from ventilation (extubate).
According to the plaintiffs' case, Kelsey was removed from the ventilator too soon, as she was still unable to breathe on her own. After being extubated prematurely, Kelsey went into cardiac arrest. Although she was revived after being shocked three times, she suffered hypoxia which caused permanent brain damage. Hypoxia refers to a condition in which the body, or a specific area of tissue in the body, is deprived of adequate oxygen supply. Hypoxic brain injuries occur when the brain experiences lack of oxygen, which causes brain cells to die.
Hypoxic brain injury, also known as cerebral hypoxia or anoxic brain injury, occurs when the oxygen supply to the brain is depleted or interrupted. The brain is constantly using oxygen to function and can experience irreversible damage in an extremely short period of time when oxygen deprivation occurs. In fact, a person will lose consciousness in 15 seconds and brain damage will begin in approximately 4 minutes with hypoxia. Just 4 to 6 minutes later, death may result.
In Kelsey's case, removing her from breathing assistance led to cardiac arrest and lack of oxygen and the consequences were devastating. With the damage to her brain, she suffers from cognitive impairments, including difficulty with memory and processing information. As with many victims who suffer childhood brain injuries, these challenges will continue for the rest of her life.
This case was decided in Monmouth County Superior Court in Freehold, New Jersey after a trial spanning approximately 6 weeks. The eight-member jury deliberated for 5 hours before determining their verdict. The $17 million awarded to the plaintiff and her parents included $10 million for medical expenses, $2 million for future loss of income, and $5 million for pain and suffering. Notice, the jury accounted for different types of damages: those that impact Kelsey and her family financially and those that represent the undue physical and emotional trauma she suffered as a result of the medical negligence in this case.
Monmouth County NJ Brain Injury Attorneys
If you or a loved one suffered a brain injury in Monmouth County or elsewhere in New Jersey, the experienced medical malpractice attorneys at Fronzuto Law Group can help. Our firm concentrates on medical malpractice cases, including brain injuries for adults, children, and infants. With offices in New Jersey and New York, our practice spans the tristate area. In fact, our firm's founder Ernest Fronzuto consults on complex pediatric malpractice cases on a national scale. If you suspect a doctor or hospital was responsible for causing a brain injury for you or someone you love, contact us anytime for a free consultation. We can be reached online or by phone at (973)-435-4551.
Resources:
Monmouth Jury Awards $17M to Family of Brain-Damaged Teen