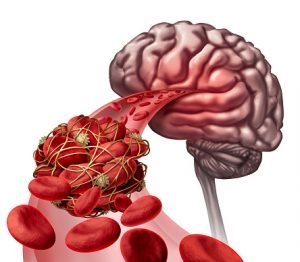 The New Jersey medical malpractice attorneys at Fronzuto Law Group have filed a medical malpractice lawsuit on behalf of a 46-year-old Morris County man who was left brain dead after a blood clot in his brain led to a stroke and brain hemorrhage.
The 46-year-old victim, a resident of Morris County, sought treatment at an Emergency Room in Paterson, New Jersey. He presented with stroke symptoms, including a left facial droop, as well as weakness in the upper and lower extremities on the left side of his body. A clear stroke victim, the patient required an emergency blood clot removal surgery; however, the interventional radiology and cardiology team was unavailable, which prompted his transfer to another hospital.
Upon transfer, a cerebral angiogram revealed a blood clot in his right middle cerebral artery. A cerebral angiogram is often used in cases involving blood clots and strokes, as it allows doctors to thoroughly examine blood vessels in the brain to identify abnormalities. In this case, medical professionals then performed surgery to remove the blood clot and to place a stent. Shortly thereafter, the victim developed bleeding and a brain hemorrhage, which required a subsequent surgery to relieve intracranial pressure. The client was placed in an induced coma to undergo the surgery; however, several CT scans later revealed that the hemorrhaging was uncontrolled, leaving the client brain dead.
Blood Clots, Stroke, and Brain Hemorrhage: Understanding the Medicine
Blood clots are an extremely common and highly dangerous medical condition affecting countless Americans every year. A blood clot can develop in any part of the body. When a clot becomes lodged in the brain, it can cause a stroke. A brain hemorrhage, also known as a cerebral hemorrhage, an intracranial hemorrhage, or an intracerebral hemorrhage, can also occur with a stroke. In fact, approximately 13 percent of strokes involve brain hemorrhages.
There are a number of different types of stroke, one of which is a hemorrhagic stroke. A hemorrhagic stroke is caused by the leaking or rupturing of a blood vessel in the brain. There are several types of hemorrhagic stroke, including an intracerebral hemorrhage and a subarachnoid hemorrhage. When an intracerebral hemorrhage occurs, a blood vessel in the brain ruptures and bleeds into the surrounding tissues. This causes brain cell damage in the surrounding tissue, as well as damage to brain cells in other parts of the brain that do not receive adequate oxygen. As for a subarachnoid hemorrhage, this type of stroke occurs when an artery on or near the surface of the brain ruptures, causing bleeding between the brain and the skull. This type of hemorrhage is often caused by an aneurysm.
Essentially, when a blood clot occurs in the brain, it increases the pressure within the blood vessel where it is lodged, which can cause the blood vessel to leak into surrounding tissues, and eventually rupture. The increased intracranial pressure, leaking of blood into surrounding tissues, and hemorrhage can lead to a stroke.
Medical Malpractice in Blood Clot and Stroke Cases
A stroke is an emergency medical situation, requiring immediate treatment to prevent permanent brain damage and further complications. There are certain common stroke symptoms which medical professionals must identify as soon as possible, including:
Numbness, weakness, or paralysis in the face, arm, or leg (particularly on one side of the body)
Mental confusion
Slurring words or difficulty speaking
Blurred vision or difficulty seeing
Severe headache
Nausea and/or vomiting
Loss of balance or coordination
There are a variety of diagnostic tools available to confirm a stroke and to detect its underlying cause. For instance, a CT scan provides doctors with detailed images of the brain that can reveal a blood clot, brain tumor, hemorrhage, or stroke. If the cause of a stroke is a blood clot in the brain, emergency surgery to remove the clot and restore blood flow is critical. In cases such as these, failure to identify the clot and/or to perform immediate surgery can truly spell the difference between life and death.
Our NJ Medical Malpractice Lawyers Advocate for Stroke Victims and their Families
At Fronzuto Law Group, our highly experienced medical malpractice attorneys aggressively advocate for victims and families who suffer harm as a result of negligent medical care involving strokes, blood clots, brain hemorrhages, and other traumatic brain injuries. We understand that nothing can truly restore your life or the life of a lost loved one, but we are committed to holding negligent doctors, hospitals, and other healthcare professionals accountable, and to recovering just compensation for victims and their families. If you believe you may have grounds for a medical malpractice claim in Passaic County, Morris County, or elsewhere in New Jersey, contact our offices today at 973.435.4551 to discuss your specific case and your potential legal options. We provide initial consultations free of charge.
Resources: